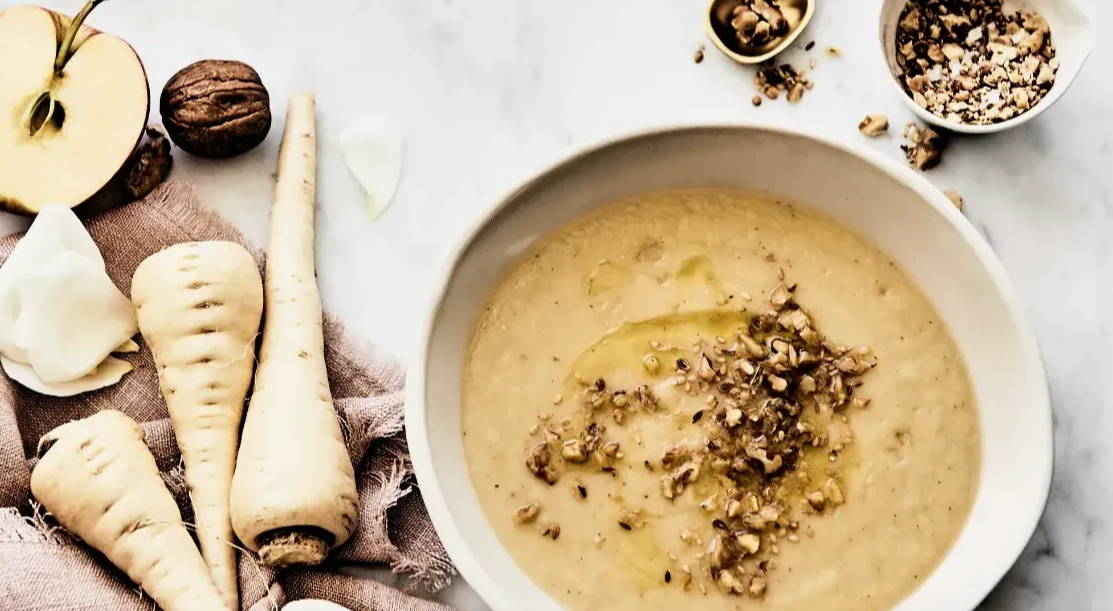 Parsnip, Leek and Apple soup with Wallnut Dukkah


This delicious belly-warming recipe is from The Beauty Chef Gut Guide. This inventive soup recipe combines flavoursome ingredients as well as fruit! Parsnips provide a subtle, earthy sweetness, highlighted by the sourness and slight acidity of green apple, and, together with the leeks, help stimulate the growth of beneficial bacteria.
SERVINGS: 4
PREP TIME: 15 MINS
TOTAL TIME: 30 MINS
Ingredients
2 x tablespoons ghee, extra-virgin olive or coconut oil
2 x leeks, white part only, sliced into rounds
4 x medium parsnips, coarsely chopped
1 x large green apple, peeled & cored
1 x tablespoon thyme
1 x bay leaf, fresh or dried
1 litre (34 fl oz/4 cups) Vegetarian Broth or chicken Bone Broth, or store-bought stock
125 ml (4 fl oz / 1/2 cup) coconut cream
Sea salt & freshly ground black pepper
Extra-virgin olive oil, to serve

Wallnut Dukkah:

1 x tablespoon coriander seeds
2 x teaspoons cumin seeds
1 x teaspoon fennel seeds
60 g (2 oz / 1/2 cup) walnuts, finely chopped
35 g (1 1/4 oz / 1/4 cup) white sesame seeds
Sea salt & freshly ground black pepper
Method

1. Heat the ghee in a large saucepan over a low– medium heat. Cook the leek for 10 minutes, or until softened.
2. Add the parsnips, apple, thyme and bay leaf and stir to combine.
3. Pour in the broth and bring to the boil over a high heat.
4. Decrease the heat and simmer for 20 minutes, or until the parsnip softens.
5. Meanwhile, to make the walnut dukkah, toast the coriander, cumin and fennel seeds in a small frying pan over a low heat for 30 seconds, or until fragrant. Coarsely grind using a spice grinder or pestle and mortar.
6. Return the small frying pan to the heat and lightly toast the walnuts and sesame seeds until golden brown. Add the spice mix and toss to combine. Season with salt and pepper and transfer to a small bowl.
7. Remove the soup from the heat and discard the bay leaf. Add the coconut cream and, using a high-speed or hand-held blender, blend the soup until smooth. Season with some salt and pepper, return to the heat and warm through.
8. Serve each bowl of soup with a generous drizzle of olive oil and a sprinkling of walnut dukkah.

Bon appétit!
x
INSTAGRAM